MyDataNinja - The All In One Solution, to Create, Manage, Track, Optimize and Scale your Digital Advertising. Our Bird-Eye view helps marketers and business owners make easy decisions, understand the core of advertising performance, automate processes and scale their business with easy management.
Ad Creation Simplified
Generate ads across Facebook and Google simultaneously with just a single form submission.
Easy Multi-Account Control
Oversee multiple Google and Facebook accounts within a unified interface. Activate or deactivate campaigns, ad sets, and ads across various accounts with a single click.
URL Shortening Enhanced
In search of a URL shortening tool to monitor sales, conversions, and profits? Exploring ways to track the performance of any URL?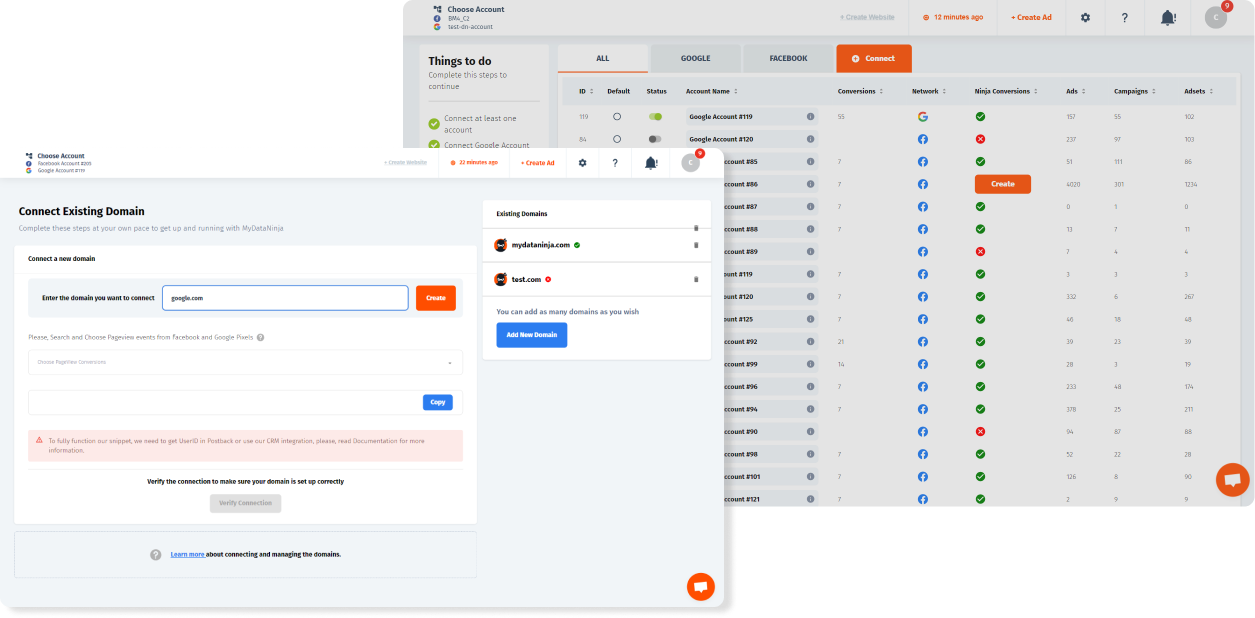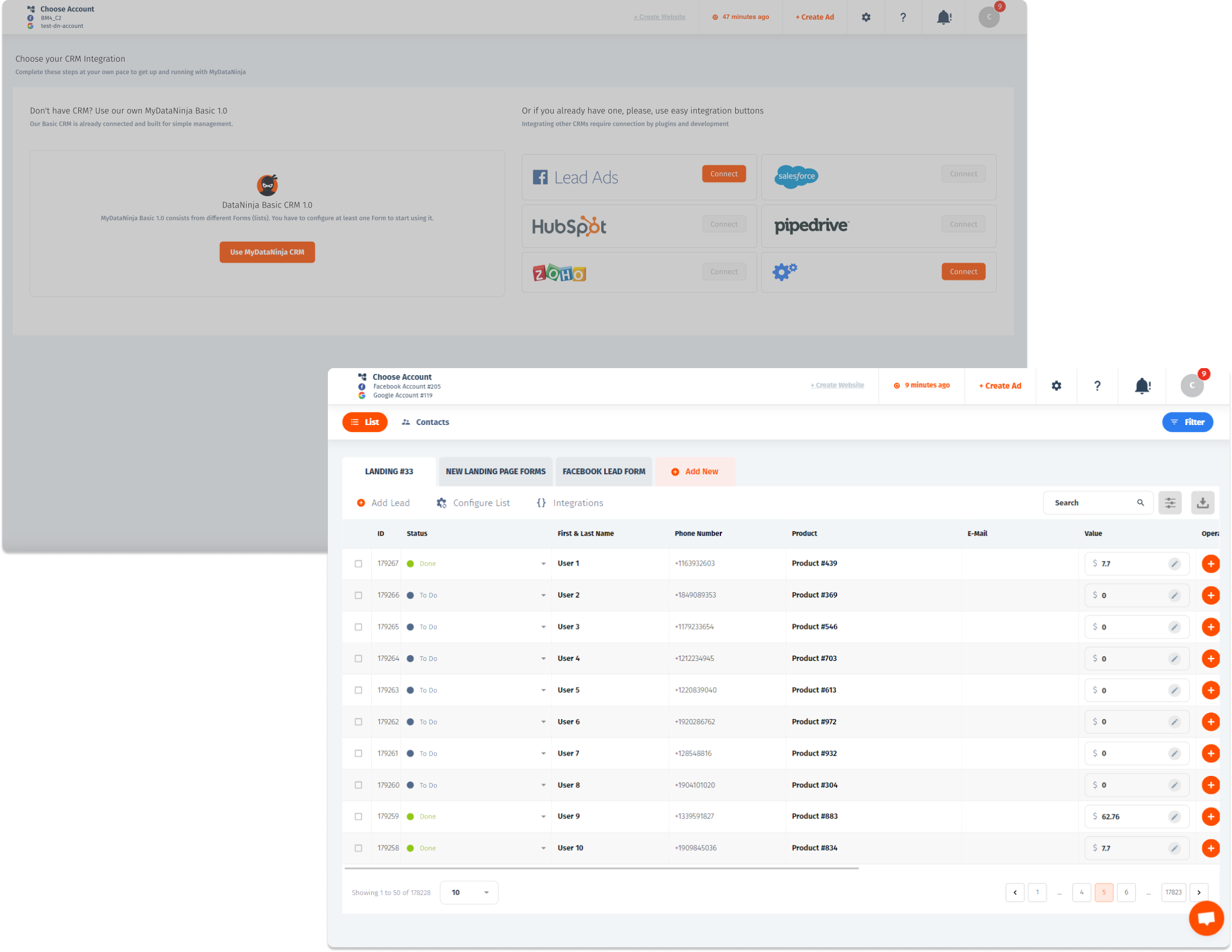 Our Basic CRM
Seeking a straightforward CRM solution? Rest assured, we have your needs met. Use our Basic CRM module that easily integrates with Ad Creation and Website, while providing pre-designed forms ready for integration.
Meta Leads Synchronization
Bid farewell to manual lead downloads and collection tasks with our automated Facebook and Meta Leads Synchronization. Our system autonomously retrieves all data with simple click at your convenience
Pixel & Server-Side Tracking Excellence
Monitor user activity on your website through our pixel and server-side tracking. This approach enables automatic transmission of offline conversions without the need for integrations or extra API links.
Real-Time Analytics Insights
Explore comprehensive campaign, ad set, and ad reports in real time. Experience real-time profitability report for each advertisement, facilitating swift and informed decision-making. This empowers fast and easy allocation of budget from underperforming ads to those yielding results.
Automate Offline Conversions
Are you generating leads with sales happening days after a user's website visit? Are you aiming to relay precise sales data, not just lead submissions, to Google and Facebook? Allow us to address this challenge. Our Server-Side Tracking function adeptly traces all sales activities and transmits data to Advertising Networks, enabling you to precisely define user categories. Harness the potential of your Conversion-Based Ads to your advantage.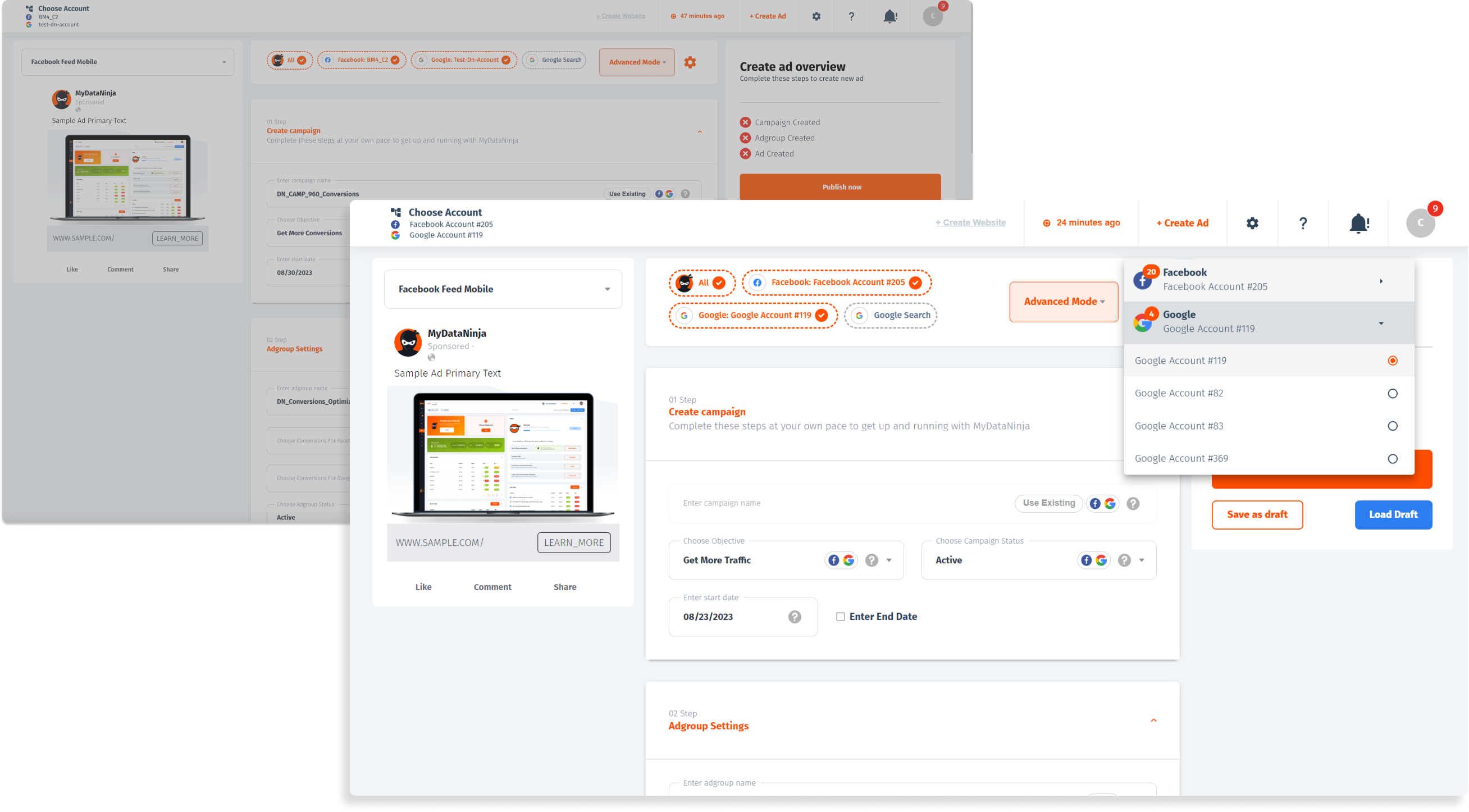 Key Features
Facebook Ads Management
Using our Built-in Offline Conversions API and Conversions-based ads, we provide you with a streamlined form for effortlessly creating algorithm-based campaigns.
Google Ads Management
Boost your your online presence with Google Search Ads, effortlessly managed through our platform. Connect with the right audience and track conversions with ease.
Google Search Ads Management
Elevate your online presence with Google Search Ads, effortlessly managed through our platform. Connect with the right audience and track conversions with ease.
Instagram Ads Management
Easily generate and oversee all meta ads within a single interface, establish conversion-centric advertisements, and harness the power of algorithms to your advantage.
Reporting & Analytics
Experience centralized access for reviewing reports across multiple Google and Facebook accounts. Gain real-time insights into every campaign, ad group, and ad. Evaluate the profitability of each advertisement and efficiently manage all ads within a single platform.
Pixel & Server Side Tracking
Seamlessly integrate Meta and Google's Offline tracking, as well as Pixel Tracking, through our Pixel and Server Side Tracking. This streamlined integration effortlessly channels data to algorithms, allowing you to fully leverage the advantages of conversion-based ads and machine learning.
CRM Module
Using our proprietary basic CRM module or seamlessly integrating your existing CRM offers the capability to observe individual user revenue alongside real-time performance insights of your advertising campaigns.
Automatic Offline Conversions
We meticulously trace each user's journey through Pixel and Server Side tracking, seamlessly importing data to Google and Meta via API. Even after a user has left the website, our offline conversions mechanism comes into play. This synergy enables the algorithm to precisely sculpt the user profile you require, significantly enhancing the efficacy of targeting conversion-based ads.
URL Shortener & Tracking
Simplify and enhance your link management with our URL Shortener & Tracking feature. Monitor link engagement and performance effortlessly.
Facebook Leads Sync
Say goodbye to the hassle of manually downloading Facebook Leads. Our system now syncronizes leads from Meta to CRM, providing an automated process and granting you effortless management capabilities.
Audience Generation - Coming Soon
Without difficulty build up to highgly 40 optimized audiences with our Audience Generation module. Utilize website traffic insights to fuel precise retargeting and lead generation strategies.
Website Builder - Comming Soon
Craft your online presence seamlessly with our Website Builder. Create a dynamic, user-friendly website that complements your advertising efforts and engages your audience effectively.